Friends of the Provincial Archives
The Friends consist of interested individuals from across the province, throughout Canada and abroad, who wish to: 
Promote and foster awareness of the collections of the Provincial Archives. 
Encourage communication between the Provincial Archives and the people of Saskatchewan. 
Assist the Provincial Archives in acquiring, preserving and making public and private records of historical importance available to the public.
Support the activities of the Provincial Archives by promoting and assisting with projects whenever possible.
Support for activities associated with events related to Archives Week, Remembrance Day, and other events as needed. 
2023 Meeting Schedule:

The Friends meet to discuss projects and activities, and to plan events.  
The 2023 meeting schedule is as follows:
September 20 | November 15.
Meetings are at 1:30 pm (Saskatchewan time).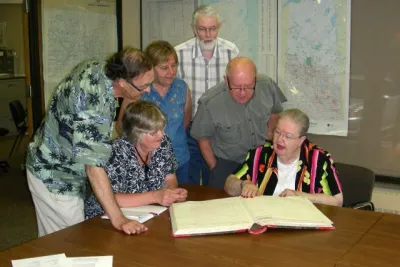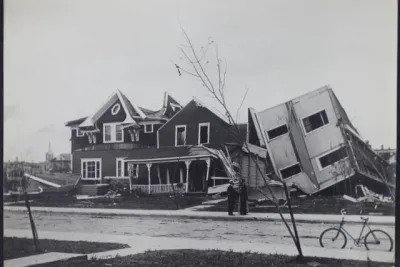 Photo Collection Metadata Project
Volunteers from the Friends are helping the Archives improve descriptions of items in the Historical Photographs Collection, by reviewing the prints and postcards from our Permanent Collection and comparing them with existing database entries. The content of the photo collection is wide-ranging, from public events to family scenes, from infrastructure and buildings to destruction, like the aftermath of the tornado that ripped through Regina in 1912.
Examining both front and back sides of these items, volunteers uncover photographers' markings, postage stamps and templates, as well as personal inscriptions that shed light on the people and places connected with them. Sometimes they even solve a mystery! The information our volunteers find is added by archivists to our descriptions, so that researchers near and far can share in these stories.
Thank you to all Friends who have dedicated time and energy to enriching the searchability of these records!


Annual Reports
Information submitted through this Archival Description Enhancement Form may be used to provide addendum information to existing archival descriptions that will be available to researchers, in publications and on the internet related to the holdings of the Provincial Archives of Saskatchewan.
To join the Friends of the Provincial Archives:
Please email the Friends liaison.
E-mail updates are sent out periodically via the "Gopher Gazette".