Family History Research
The Provincial Archives is a major resource centre for family history research related to Saskatchewan families.

The archives' experienced and knowledgeable staff can help family historians locate records in the Archives' collection and provide referrals to resources held in other institutions across Canada.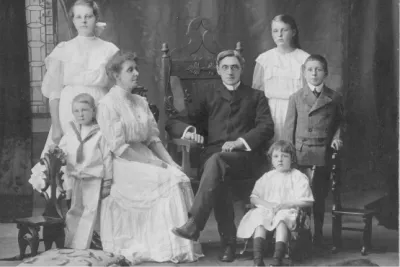 Organize materials from the start
Tools to help organize your family history records are available through genealogical societies and online, including paper and digital charts, conservation supplies for preserving documents and heirlooms, filing organizers, etc.
Keep research notes and copies
Keep research notes and copies of original documents, correspondence and other relevant items. Note the source for each item. Consider storing hard copies of digital materials.
Record all sources consulted
Record all sources consulted, including those which did not prove useful.
Consider joining a family history group
For the novice family historian, the greatest single source of help and encouragement is often a genealogical society. Most provinces and larger cities have genealogical societies, where members meet regularly to learn and discuss methodology and to share experiences and information. Often the society has a library and several experts in particular aspects of the field.
Where to Find Information
Records Available at the Archives
The Archives has significant record collections with genealogical value, such as the homestead files for land located within the province's boundaries. Other types of records that may be useful in your genealogical research:
Useful Publications
There are a number of publications available at the Provincial Archives that may be helpful for family history research.
a complete set of telephone directories for Saskatchewan starting in 1908.
Saskatchewan and its People (Hawkes), History of Saskatchewan (Black) and Pioneers and Prominent People of Saskatchewan contain biographies of well-known Saskatchewan individuals. All three publications are available to view in the Reading Room.
Biographical files on prominent Saskatchewan individuals from a variety of sources such as the Saskatchewan Historical Society and from various newspapers.
Published genealogies relating to specific Saskatchewan families have been donated to the archives by family historians, and may be searched by family surnames.
Records found within the homes of family members may be a great starting point. Be on the lookout for useful documents as relatives sort through their storage rooms and attics.
Read about how to contact to other organizations for information, groups & organizations to contact and types of records to explore, and where to find them.
If you are looking for a particular publication or if you are searching for published material about a particular family or location: Search our online catalogue.