Ukrainian Orthodox Easter
The Ukrainian Orthodox Church celebrates Easter according to the dates of the Julian calendar.  In 2023 Easter will be celebrated on April 16.  Saskatchewan is home to many Ukrainian communities, and this exhibit highlights some of the traditions of Easter celebrations of the Ukrainian Orthodox Church and Saskatchewanians of Ukrainian ancestry.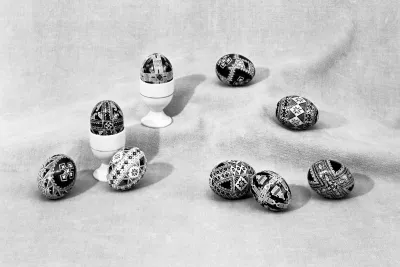 Ukrainian Orthodox Easter Traditions
The Ukrainian word for Easter is Velykden, meaning The Great Day. 

The cookbook was published in 1977 by the Olena Pchilka Branch of the Ukrainian Women's Association of Canada in Yorkton, Saskatchewan.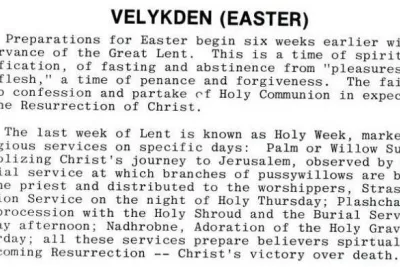 An account of Easter celebrations at the Ukrainian Orthodox Church of the Assumption of the Holy Mother of God in Mamornitz, Saskatchewan. Excerpt from Mamornitz: A History of a Ukrainian Pioneer Community by Jennie Zayachowski.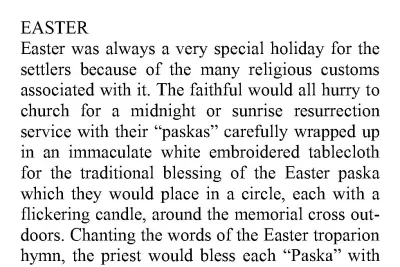 There are a number of different types of Ukrainian Easter Eggs. Pysanky are raw eggs on which designs are created using a wax-resist method. The designs are made with a tool of some sort, such as a stylus or pinhead. Krashanky are boiled eggs, dyed a single colour which are blessed and eaten at Easter.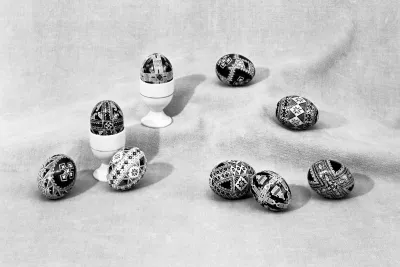 Ukrainian Orthodox Churches