Immigration, Naturalization and Citizenship Records

Immigration:  Passenger Lists
While federal immigration and citizenship records prior to 1917 are very sketchy, one very important source is the extensive collection of lists of passengers arriving in Canadian ports beginning in 1865. These lists were compiled under law by ships transporting people to Canada. The original passenger lists are held by Library and Archives Canada (LAC) and have been microfilmed for dissemination to the public.  

The following table lists passenger manifests of ships arriving at Canadian ports of entry which are available at LAC, and indicates whether or not the Provincial Archives has a microfilm copy:
Port of arrival
 
Date of Arrival           
(covered by           
LAC records)
 
Available        
on microfilm        
at the PAS

Québec City, Montréal, Québec    

 

1865 - 1935

 

1865 - 1926

Halifax, Nova Scotia

 

1881 - 1935

 

1881 - 1922 and 1929

Saint John, New Brunswick

 

1900 - 1935

 

1900 - 1922

North Sydney, Nova Scotia

 

1906 - 1935

 

1906 - 1922

Vancouver, British Columbia

 

1905 - 1935

 
No

Victoria, British Columbia

 

1905 - 1935

 
No

Via New York

 

1906 - 1931

 

1906 - 1922

Via eastern United States ports

 

1905 - 1928

 
No
Please Note: 
The Québec City and Montréal, Québec ports were closed during the winter months because of the freeze-up of the St. Lawrence River. 
Arrivals at Montréal between 1865 and 1924 are included in the Québec lists. 
The North Sydney, Nova Scotia listings include mostly ferry arrivals from Newfoundland and St-Pierre et Miquelon, with a few passengers in transit from other countries. 
The United States lists include only the names of passengers who stated that they intended to proceed directly to Canada.

The lists are arranged by date of arrival of ships into particular ports. Since ship's passenger lists were not arranged alphabetically, researchers may have to search through an entire manifest in order to locate pertinent entries. The Provincial Archives' staff is unable to look for individuals on these lists on behalf of a researcher unless the ship name, port of entry, and approximate date of arrival are provided.

The information that is generally provided by these records is the name, age, sex, occupation, nationality and intended destination of each passenger.  

Passenger lists for 1865 to 1922 have been digitized by Library and Archives Canada. This database provides full access to the digitized copies of the ships manifests. The search screen allows you to search by: name of ship; year of arrival; port of arrival; shipping line; and/or port of departure. For more information on how to find records using this database, consult the "Search Help" section of the LAC website linked above.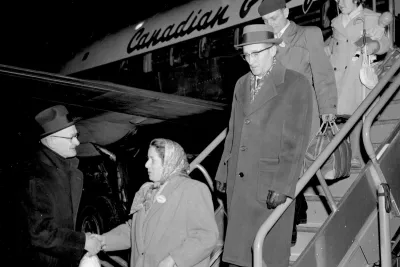 Immigration:  Border Entry Records
Many immigrants to Canada came from the United States or sailed from Europe to American ports on their way to Canada. Prior to April 1908, people were able to move freely across the border from the United States into Canada; no record of immigration exists for those individuals. Additionally, not all immigrants crossing the border after 1908 were registered, so there may not be a record for these individuals. In some cases, immigrants crossed the border when the ports were closed or they crossed at locations where there was no port.

The Provincial Archives holds border entry records on microfilm for the period 1908-1918. The border entry records contain genealogical information about each immigrant such as age, country of birth, last place of residence, occupation, and destination in Canada. These records cover all of the border entry points in Canada for 1908-1918. The original border entry records are housed by Library and Archives Canada.

The border entry records are arranged alphabetically by the name of the port and/or the border crossing and the date of arrival. The following microfilm reel is available at the Provincial Archives of Saskatchewan: Provincial Archives: T-5461 to T-5507, Aldergrove, BC to Yarmouth, NS.

Library and Archives Canada has microfilm records on Border Entries.
For more information about immigration and citizenship records and the various tools available to search these records please visit the Library and Archives Genealogy and family history.
Citizenship (Naturalization) Records
The Canadian Citizenship Act came into force on 1 January 1947. From 1763 to 1947, persons born in the provinces and colonies of British North America were all British subjects. Being of equal status, immigrants from Great Britain and the Commonwealth did not need be to be naturalized. If they were not already British subjects, homesteaders had to become naturalized before they could obtain patent (title) to the land.

Immigration, Refugees and Citizenship Canada holds the records of naturalization and citizenship from 1854 to the present. Unfortunately, the originals of records dated between 1854 and 1917 have been destroyed. However, a nominal card index has been maintained and provides information given at the time of naturalization, including:
present and former place of residence

former nationality

occupation

date of certification

name and location of the responsible court

This index rarely contains any other genealogical information.

Records created after 1917 are more detailed, and the information given includes:
surname

given name

date and place of birth

date of entry into Canada

in some cases, the names of spouses and children

For information on how to request a search for another person's records or your own records, please consult the Library and Archives Canada Citizenship and naturalization records page.