Victor N. Swanston
Born in Ottawa in 1884.
Was an unmarried farmer from the Bulyea district when he signed up for duty at Valcartier, Quebec at the age of 30.
Served as a Private with the 5th Canadian Infantry Battalion (Western Cavalry) in France, 1914-1918 and with the occupation forces Germany in 1919.
While on leave in England, he met Florence Chapman. They were married in 1919 before leaving for Canada.
Discharged on August 18, 1919 and returned to farming.
Went to work for General Motors assembly plant in Regina.
Laid off in the 1930s, he and his family moved north to Big River to take up farming under the provincial government's relief program.
Moved back to Regina to work for Regina Industries Limited which manufactured munitions during the Second World War.
Victor Swanston died in 1974.

Context for the Victor N. Swanston fonds
R-E 1538, Victor N. Swanston's war service records, were donated to the Saskatchewan Archives in 1993 by his daughter Yvonne (Swanston) Burgess of Bulyea. They include postcards, military pay book, photographs, letters, and song books.  The collection includes a copy of the book "Who Said War is Hell," No. 12895, Private Victor N. Swanston, Fifth Battalion, Canadian Expeditionary Force, World War 1, by Charles and Yvonne Burgess. The book contains extracts from the war diaries of Victor Swanston and his brother Ernest, which are used in the diary entries below.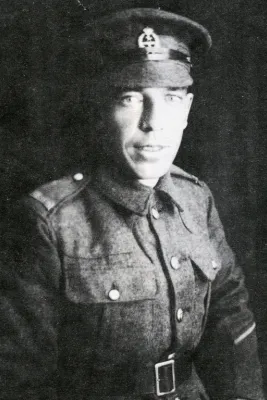 Victor Swanston's Diary Entries
 
April 22, 1916
Rained last night and today, mud up to the horses' bellies everywhere.  Took rations up past "Shrapnel Corner" and on up to within a few hundred yards of the front line trenches.  Shells were landing on the Corner every few seconds when we got back that far, so we waited 'til a batch landed, then rushed around the Corner, just escaping the next lot which landed behind us.

It was so dark that we wouldn't have been able to see the shell-holes in the road, only for the Star shells that Fritz sent up every little while.  Came back a round-about way through Ypres, so as to have a one way traffic, that town is sure hell of a place to drive through at night. 
 
---
April 24, 1916
Left out billets near the windmill and moved to Poperinghe, put up our horse lines near the station, a good place if it keeps dry.  Ern, Reid and I went to a picture show, while inside, two shells hit near the buildings.  We were afraid for the awhile that the people who ran the show were going to close the place, they were so scared.  But they finished the picture first and we weren't out our show. 

Took a walk through town from there and saw a British General and Staff passing through the Town Square.  Some men from the "Guards" Battalion were standing to attention on the street corner, when one of our Machine Gunners (a little Irishman) walked by with his hands in his pockets.  A big, six-foot guard yanked him up straight and made him stand at attention.  The little fellow didn't say anything but went around the corner, took his Smoke helmet out of its satchel and put in a brick.  Then he came back behind the big guard and fetched the satchel down on his head with all his might.  "That will learn you to make me stand at attention when I don't want to," he said, and then beat it.
 
---
April 27, 1916
Weather good, "Standing to" all the time, both night and day.  Germans putting on a "Straf" dropped a lot of bombs on the town last night, did quite a bit of damage.  Had a hot "Bath" and clean change of underwear, then went to see a show in town, called the "Fancy's", real good.  The Tommies put it on.
 
---
April 30, 1916
German guns are bombarding Poperinghe, had to move our horses.  Two enemy planes came over and dropped a dozen big bombs on the town.  Just saw a big shell hit under a freight car and throw it a hundred feet in the air.  None of our men hit so far.  Big Fisher and I took a walk looking at the damage done by the shells and bombs.
Poem about "Shrapnel Corner":
Quiet Night
When you go up to the trenches
With the rations late at night,
On a road that's full of shell-holes all the way,
And the rain comes down in torrents,
Flashing guns your only light,
You are apt to feel most anything but gay!
When you reach a torn-up cross-road,
"Shrapnel Corner" is its name;
All the trees about the place are blown off "short"
By much high explosive shrapnel,
Well, you're there to play the game,
But how – oh, how! You'd like a little "snort".
When you hear a moaning whistle
Very quickly drawing near,
And you tip your old tin hat towards the sound,
Then, when that shell breaks o'er you,
Looking like a wooly bear,
Well!  You have sneaking feeling for the ground.When up closer to the trenches,
And machine-guns round you play,
And no ration party anywhere in sight,
Well, you're feeling mighty restless,
For you want to get away,
Even though it's what is called a quiet night.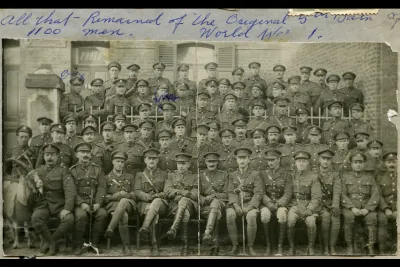 Letter Written by Family Member "Eva" to "Bert" about Victor Swanston's Enlistment in 1914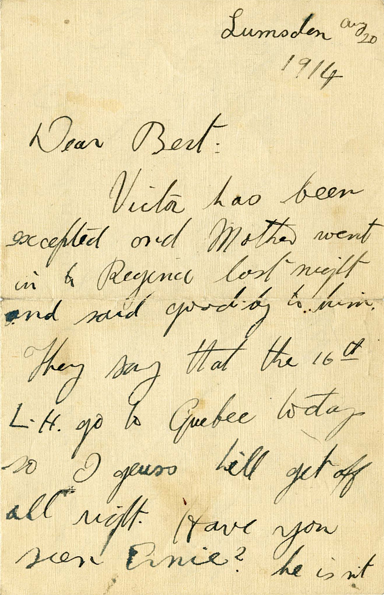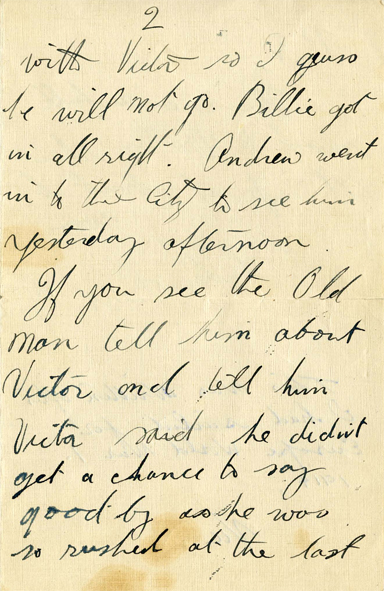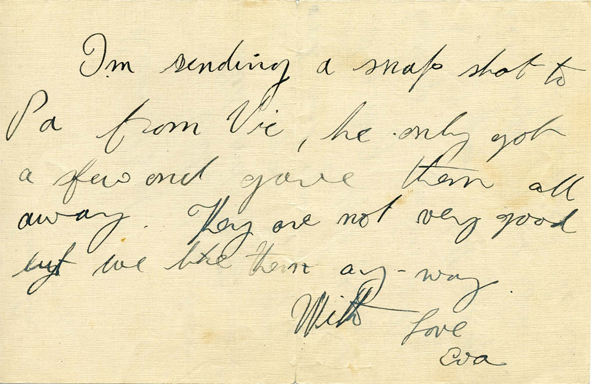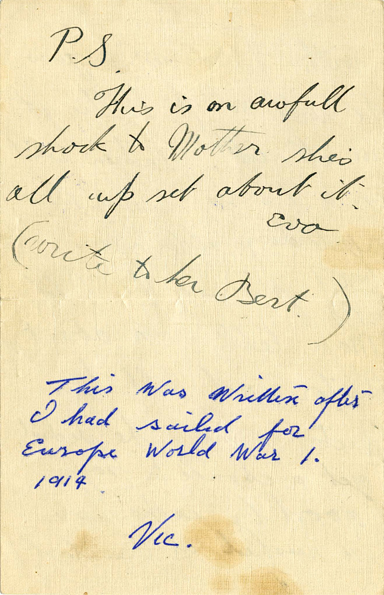 (note added by Victor after the war)